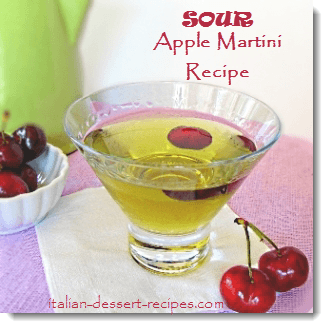 This sour apple martini recipe is part of my amaretto drink recipes collection. I know it's not the first thing that comes to mind when you think of a selection of Italian drinks, but it's made with amaretto, and that's an Italian liqueur. There are so many creative things you can do with that bottle!!!!
When you think of sour apple martini recipe you may be think of mixing up concoctions like Jolly Ranchers and sweet powders. This is not that kind of taste! This is more of a sour-apple-kick-in-the-throat-taste with a pleasant after-taste of vanilla almond.
I decided to try this recipe because I had it sitting in my stack of I'm-gonna-make-this-drink-sometime-in-the-future-piles. Well the future hit when the small DeKruyper Sour Apple Schnapps bottle went on a major sale. (I usually wait to make the oddball martinis when the store is clearing out all the odds and ends).
My husband says this tastes like cough syrup. So obviously I'm not making it any time soon for him. As for me the apple sour part bites so hard I have to serve myself a SMALL glass. But then again, thats why it's called SOUR apple martini. Too, I could have just modified it. But I didn't. I've posted with the ratios I used - and feel free to experiment.
Now if this isn't what you were looking for, scroll below and check out my photo gallery of Italian drinks. Hover over the pic - and the recipe name will pop up. If it looks interesting - click on it to see the recipe.
Enjoy your cocktail. And thanks for stopping by -

Owner and Creator of Italian Dessert Recipes
Follow Me On
Facebook!

And
Pinterest :-)