Espresso Powder
"A quick flavor for many Italian Desserts"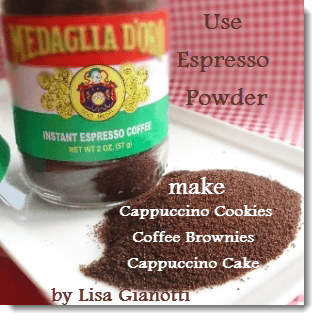 I use espresso powder in many of my Italian Dessert Recipes such as my cappuccino cookies and my cappuccino cake. Matter of fact I have a whole coffee dessert recipes section that uses this powder. And before I ever bought espresso powder I'd make strong coffee to bake these. Ha! Now my life is sooo much easier.
Some of these recipes I've been making for years even before the powder was on the market. Back-in-the-day I used to drip a real strong coffee. Or use the espresso maker if I was so moved. Now, I just use the easiest way. And as long as it doesn't sacrifice flavor - I'm for it.
This powder is such an easy way to go. Now that I don't have to go find my dusty espresso maker that's been lost in the basement for 10 years I have no idea if I'll EVER use it again. (Not an espresso drinker - I just used espresso to bake with.) The powder is so nice to have sitting with all my baking supplies an easy grab away.
You can see the recipes that use it in the photo gallery below. Hover over, and there's the explanation. Click on the photo and there's your recipe.
Thanks for stopping by.

Owner and Creator of Italian Dessert Recipes
Follow Me On
Facebook!

And
Pinterest :-)


W

here can I get this?

I buy mine at Dean and DeLuca. But don't panic if the closest Dean and Deluca is over 100 miles away. Some grocery stores carry it in the gourmet section or the International Foods Section. If not click away. You can find anything on the internet.
---
W

hat would the equivalent be in one of your recipes?

Before this powder came into my life I used instant coffee. These were the ratios:

2 tablespoons instant coffee
mixed with 2 teaspoons of boiling water
E

spresso beans and coffee beans - what's the difference?
The beans themselves are slightly different.
Espresso beans are roasted until dark and oily.

Back to the top of this espresso powder
Coffee Dessert Recipes →