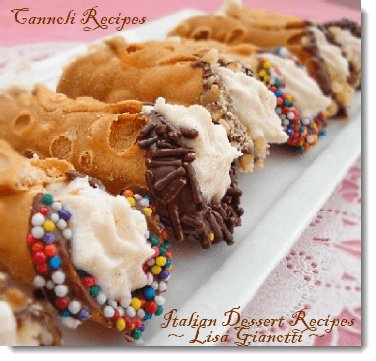 Cannoli filling recipes are the creamy fillings inside the cannoli shells.
There are two schools of thought as to which cannoli filling recipes are the best. Some say using ricotta is the best. And others say using mascarpone is the best.
The mascarpone filling recipe is easier. But mascarpone is more expensive and sometimes tough to find (especially if you don't live in a city.) And really, it's not TOTALLY mascarpone - it does have a bit of ricotta too.
Because you won't find all chef's agreeing on the most authentic, or best filling - I list both filling recipes here. And I make everyone happy. (OK, I know that's not true - but I feel appeased.)
Yes, cannoli is one of the most popular Italian Dessert Recipes but just making it isn't the whole cannoli culture. Presentation is a big deal. In my photos on my Cannoli Recipes you can see I dipped the edges of the cannoli in melted chocolate and dip in nuts, candies, or sprinkles. Make sure and spend the extra coin to get your presentation sizzling. My cannoli recipes picture is my most pinned on Pinterest.
If you want to jazz up the filling (the inside) with candied fruits, chocolate chips etc... check out some of the ideas in the substitutions and FAQs listed below.
Thanks for stopping by. And if you are holding some extra ricotta cheese after making one of these cannoli filling recipes - check out my Ricotta Cheese Recipes to help you use up the extras!

Owner and Creator of Italian Dessert Recipes
Follow Me On
Facebook!

And
Pinterest :-)


---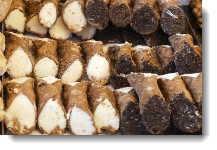 Cannoli Filling Recipe with Ricotta
Ingredients
* 1 pound ricotta cheese
* 1/4 cup cornstarch
NOTE: I need a bit more cornstarch. We use 2% or non-fat milk due to my borderline high cholesterol. I'd advise whole milk if you aren't on any health restrictions.
* 1 1/3 cups milk (WHOLE milk if you can - otherwise improvise and use more cornstarch)
* 1/2 cups sugar (I use powdered)
* 1/2 tsp almond extract
* 1/2 tsp vanilla extract
* 1/4 tsp cinnamon (This is optional - my kids actually hope I DON'T add it!---BUT I usually do! :-) )
Procedure
* In a bowl, slowly whisk 1 cup of the milk into the cornstarch until it becomes smooth.
* Let sit about
* Put mixture into sauce pan and add the remaining milk and sugar to the milk-starch.
* Stir over a low heat until it is thick and smooth. Remove from heat.
* Stir in the almond and vanilla extracts.
* Place a piece of plastic wrap on the surface of the filling to avoid "skin" (you know that gross stuff)
* Wait for mixture to come to room temperature.
Find something to do in that time, but it does need to cool.
* AFTER the mixture is at room temperature - THEN add the ricotta cheese and cinnamon to the cornstarch.
* Pipe the filling into cannoli shells.
---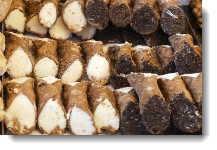 Cannoli Filling Recipe with Mascarpone
Ingredients
* 3/4 cup whole milk ricotta cheese (drained overnight w/ cheesecloth & squeezed dry)
* 3/4 cup mascarpone cheese
* 1/4 cup powdered sugar
* 1/2 tsp vanilla or Grand Marnier
* 1/2 tsp ground cinnamon
* pinch of salt
Procedure
* Mix filling ingredients together.
* Cover and refrigerate until ready to use (at least a couple of hours).
* Use a ziploc ( cut the corner ) and pipe into the shells.
* Let the filling smoosh out of each end of the shells, just a tad.
* Keep the cannoli refrigerated until dessert time or whenever you are ready to serve.
* Some people sprinkle powdered sugar on top right before serving.
---
---
H

ow long will cannoli keep?

Sorry this isn't a make ahead and freeze dessert. Regardless of your choice in cannoli filling recipes this just doesn't keep. And that's because of the shells. They get soggy quick. You will want to fill the cannoli shells a few hours before serving. But not much more than a few hours.
---
N

eed ideas to add to the filling?

Here's some traditional goodies you can add to either of the cannoli filling recipes (mascarpone or ricotta):

vanilla
chocolate
pistachio
candied citrus peel
cherries
Marsala wine
rosewater (or other flavorings)
---
C

an I skip the Marnier?

Yup. Not a problem. You can skip it - or create your own creation and choose a flavoring of your choice.
---
H

ow do I get the filling into the shell?

Put the filling in a pastry bag with a wide tip opening (or a freezer ziploc bag with the corner snipped off).
Hold a cannoli shell in one hand and the ziploc/freezer bag in the other hand.
Gently squeeze the filling into both ends of the cannoli shell to fill the cannoli.
---
W

here can I buy Cannoli shells?

Usually in a larger supermarket. Check the International food section. I listed a couple of other places to check for shells if your supermarket doesn't carry them. See the cannoli recipes page for more ideas.

Back to the top of Cannoli Filling Recipes