Ricotta Cheese Recipes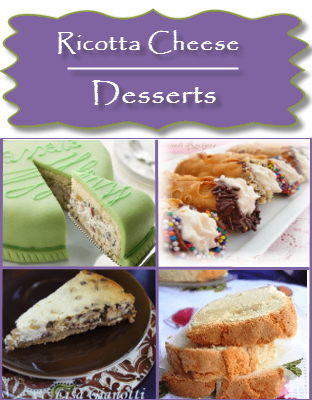 Ricotta cheese recipes are a collection of Italian dessert recipes on my site that specifically call for ricotta cheese. If you are not familiar with our desserts - then you might be thinking we just use ricotta in cannoli recipes. Well surprise! We use this cheese in a few of our Italian cakes and I even have it in one of my Italian cookie recipes.
To get to the recipes, scroll below and you will see my photo gallery. Hover over the photo and the name of the dessert will pop up. If you want to look at the recipe then just click on the photo.
Each one of my Italian dessert recipes are tested, tried and true! Some have been in my family for a long time. Others I've adapted using my grandmothers cooking style. And with kids still in the house PLUS grand kids that come visit at least once a week - I'm constantly baking and REbaking these recipes.
I'm going to be straight up and say none of these recipes in this section are super quick. Some are easy - like there's not a lot of ingredients. But to plan your time - give yourself at least for prep and clean up. And if you are making the cassata cake (the green one in the picture at the top of the page ) - then give yourself a bigger window of time.
If knowing when new ricotta cheese recipes are posted is important to you - book mark this page - and keep checking back. Another good way to know when a ricotta recipe is posted is ---FACEBOOK! I tend to talk about what I'm cooking and then posting the link there as soon as I get the recipe written up. This collection will grow. And this is your place to find desserts that are centered around that creamy ricotta!
Happy baking and thanks for stopping by -