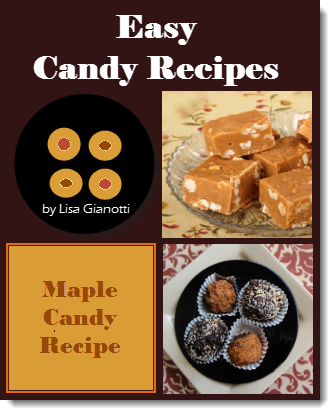 This collection of easy candy recipes aren't all necessarily Italian Dessert Recipes . We are like anyone else - we do enjoy candy. But some of our candies aren't so simple. I tried to keep those ones out of here. Except my truffles. My amaretto truffles. They are truly an Italian dessert - but fair warning - THEY ARE NOT EASY. Because I have a traditional Italian Dessert Recipes collection I felt the need to leave them on the site. (But I am giving you a warning on "NOT" easy)
For the holiday season we usually have platters of goodies - mostly with cookies ( Italian cookie recipes ) - and we put the candy on the platter interspersed through out the cookies. We don't pile big chunks of fudge or mounds of chocolate. The candies is kinda like a garnish.
We are big on jelly candies. Love 'em. I have a killer apricot jellied candy recipe...but it's not here yet. (Gotta get one of those jelly candy recipes in here.) And we have a torrone which is a nougat. At the present I add recipes to this collection as I make them. And although this collection is small - look through my large collection of Italian cakes and Italian cookie recipes .

Owner and Creator of Italian Dessert Recipes
Follow Me On
Facebook!

And
Pinterest :-)