Chocolate Sour Cream Frosting
"Rich and NOT for the faint-hearted"
This
chocolate sour cream frosting
is not for the faint hearted nor the one ingredient cook. The amaretto is optional. Amaretto is an Italian liqueur and we use it tons of
Italian drinks.
I use this frosting on my
Chocolate Amaretto Cake
. But heck, its a frosting, use it on whatever you wish!
If this isn't the type frosting you were looking for
scroll below
and see the list of
Italian cakes
and frostings I have my site. These recipes are the results of my sweet tooth. Through the years, I've made all these
Italian dessert recipes
. I will just keep adding and adding until my days on earth are finished. Thanks for stopping by.
Lisa
Chocolate Sour Cream Frosting
YIELD:
Enough to frost a 3 layer cake if needed!
Frosting Ingredients:
* 1 - 2 tablespoons amaretto ( optional )
* 1/4 cup unsalted butter
* 1/4 cup whipping cream
* 2/3 cup sour cream
* 1 cup powdered sugar
* 2 cups semisweet/bittersweet chocolate chips
Frosting Procedure
* Combine butter and cream in medium saucepan.
* Put burner on medium low and stir until the mixture comes to simmer.
* Remove from heat.
* Add 2 cups chocolate chips and whisk until melted.
* Mix in the amaretto.
* Cool approx 5 minutes.
* Whisk in sour cream and the powdered sugar.
* Make sure and get rid of all lumps!
* I usually find I don't have to put this in the fridge to spread. I pour it on my cake and it firms rather fast.
Won't the cream curdle?
It's not curdled for me. BUT I stand there and stir AND my burner isn't too high either.
Can I use milk instead of whipping cream?
Sure! BUT the added fat in the cream really makes this frosting rich!



Back to the top of the chocolate sour cream frosting.






Other

Italian Cake Recipes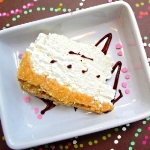 Almond Cake Recipe
Almond Pound Cake
Amaretto Cake Recipe
Amaretto Mousse Cheesecake
Apple Pound Cake
Applesauce Cake Recipe
Beer Cake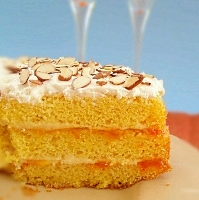 Blueberry Cake Recipe
Blueberry Coffee Cake Recipe
Cappuccino Cake
Cassata Cake
Caramel Cake
Chocolate Amaretto Cake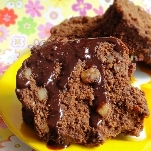 Chocolate Buttermilk Cake
Chocolate Torte Recipe
Chocolate Walnut Cake
Coconut Layer Cake
Coconut Cake Recipe
Date Bread
Double Chocolate Brownie Recipe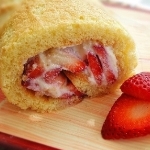 Eggnog Cake Recipe
Flourless Chocolate Torte
Fresh Strawberry Cake Recipe
Gluten Free Chocolate Cake Recipe
Harvey Wallbanger Cake
Italian Cream Cake Recipe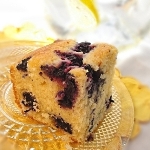 Italian Rum Cake Recipe
Jelly Roll Recipe
Key Lime Cake
Lady Fingers Recipe
Lemonade Cake
Lemon Layer Cake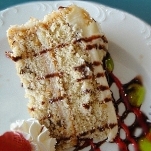 Lemon Pound Cake
Mint Brownie Recipe
Peach Cake Recipe
Poppyseed Cake Recipe
Recipe For Chocolate Cheesecake
Pear Cake Recipe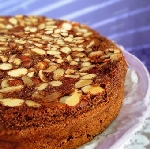 Pineapple Carrot Cake
Pistachio Cake Recipe
Plum Cake Recipe
Pumpkin Cake
Pumpkin Bread Recipe
Recipe For Chocolate Cheesecake

Recipe For Pumpkin Cheesecake
Ricotta Cake
Spice Cake Recipe
Sour Cream Cake Recipe
The BEST Tiramisu Recipe
Walnut Cake Recipe
Whipped Cream Recipe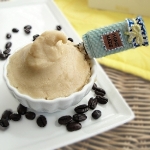 Yogurt Cake Frostings - Glazes - Icings

Click here to see my

cake frosting recipes

.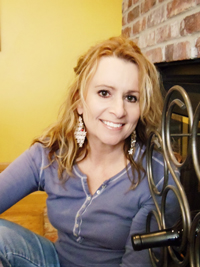 Memorial Day and Warmer Weather Treats!
It's finally warming up! In my neck of the woods we had SNOW on May 2nd. Now were on to the warm weather sweet treats!
I started celebrating by having a Sangria last night. Sangria is so easy to make - and the trick to making it spectacular is - following the super easy procedure. IF you need a brush up see:
How to Make Sangria
As for Memorial Day Goodies - I bake the LESS sticky stuff if I have to travel. And something that the kids can grab with their fingers as they cruise by the dessert table and run off to their next game. Cookies and brownies work the best for this!
The past month, these are my top five most viewed cookie recipes:
#1
Anisette Cookies
#2
Italian Wedding Cookie Recipe
#3
Pizzelle Recipe
#4
Ricotta Cheese Cookies
#5
Meringue Cookie Recipe
Have a fun filled Memorial Day!
Lisa
Would you like to share this page? You know how to do it! Thanks for sharing the sugar love!