Coffee Brownies
"a.k.a - Cappuccino Brownies!"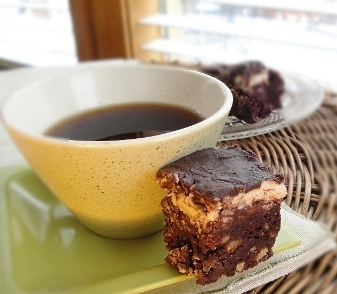 These coffee brownies are filled with a rich cappuccino cream layer.
My friend Michelle has been making this
Italian cookie recipe
for the past fifteen plus years. These cappuccino brownies consist of a fudge brownie base, then a creamy cappuccino layer topped off with a chocolate glaze. Y-i-i-i-i-kes, I know
decadent!
But well worth the calories!
I've loved these ever since Michelle baked them for me years ago. But somehow when she makes them they always taste better than when I do. Why is that? There always seems to be a special magic when others bake for you!
If you are wanting to substitute certain ingredients I wouldn't stray too far from this recipe if I were you. This coffee brownie captures both flavors - the coffee and the chocolate. But if you are out of certain things - I get it. There are some suggestions in
substitutions and FAQs
below.
Coffee Brownies
YIELD:
9 x 13 pan
Ingredients:
8 ozs semi-sweet chocolate
2 sticks plus 2 tablespoons butter
2 Tablespoons instant espresso powder dissolved in 1 Tbsp of boiling water
2 teaspoons vanilla
1 1/2 cup sugar
4 large eggs
1 cup flour
1/2 teaspoon salt
1 Cup walnuts chopped
Creamy Cappuccino Ingredients:
8 ozs of cream cheese
6 tablespoons butter
1 1/2 cup confectioner's sugar
1 tsp vanilla
1 tsp cinnamon
Glaze Ingredients:
6 ozs semi sweet chocolate
2 tablespoon butter
1/2 cup of cream
4 1/2 teaspoon instant espresso powder dissolved in 1 Tbsp of boiling water
Procedure
* Preheat oven to 350 degrees.
* Melt chocolate, butter and espresso mixture over low heat stirring till smooth.
* Remove from heat. Cool until lukewarm and whisk in sugar and vanilla.
* Add egg one at a time until mixture is glossy and smooth.
* Stir flour and salt until combined.
* Stir in walnuts.
* Spread in greased
and
floured pan.
* Bake 20 - 25 minutes.
* Cool completely.
* Beat cream cheese and butter until light and fluffy.
* Add sugar, vanilla, and cinnamon and beat until combined well.
* Spread over brownie layer.
* Chill until frosting firms.
* For glaze - melt chocolate, butter and espresso mixture stirring until smooth.
* Cool and spread on cream cheese mixture.
* Chill until cold - at least 3 hours.
* These will keep about 5 days in the fridge - but serve them room temperature.
NOTE: If you are wanting an easier way to get that coffee brownie flavor, but don't want to make this particular recipe. Try making the:
Double Chocolate Browine Recipe
And then top it with:
Coffee Frosting
Can I use almond extract instead of vanilla?
I wouldn't. This is incredibly rich and the almond would almost be an overkill cancelling out the coffee and chocolate flavor.
Can I use pecans instead of walnuts?
There's nothing wrong with pecans and any nut could be put in place. I never use them in any Italian dessert recipes. We use almonds, hazelnuts, or walnuts.
Can I use ricotta instead of cream cheese?
You probably could. Since I haven't experimented with a ricotta substitution I can't speak with any "Thus saith I am the authority and here's how you do it." BUT here's what I would try if I wanted to use ricotta:



drain the ricotta at least 3 hours



press dry with paper towels


NOTE: Word of caution - I haven't tried this. You're on your own to experiment, then let me know.
What can I use for the espresso?
Do you have coffee? I once used a VERY STRONG COFFEE. And my coffee brownies came out wonderful. However, that was over 10 years ago, so I can't be exact ratios of coffee grounds and water. But you get the idea, strong means STRONG!
Looking for other Italian dessert recipes that use Instant Espresso?
I LOVE working with Instant Espresso. I'm a big fan of baking with it in desserts. See these other recipes that use it:
Back to the top -
Coffee Brownies
Other Italian Cookie Recipes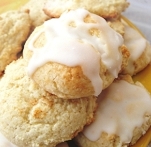 Almond Butter Cookies
Amaretto Cookies
Amaretto Lace Cookies
Almond Cookie Recipe
Anisette Cookies
Apricot Bars
Baklava Recipe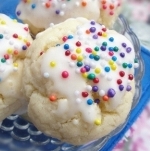 Bourbon Ball Recipe
Breakfast Cookie Recipe
Brown Sugar Cookie Recipe
Butterscotch Bars
Cappuccino Cookies
Caramel Cookie Recipe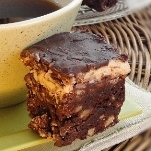 Cherry Chocolate Bars
Chewy Ginger Cookies
Chocolate Cookie Bars
Chocolate Crinkle Cookies
Chocolate Macaroons
Chocolate Mint Cookies
Chocolate Raisin Cookies
Coconut Macaroon Cookies
Coffee Brownies
Cornflake Cookies
Date Cookies
Date Bars
Eggnog Cookie Recipe
Florentine Cookies

Homemade Granola Recipe
Italian Fig Cookies
Italian Wedding Cookie Recipe
Kourabiedes
Lemon Cookie Recipe
Lemon Shortbread Recipe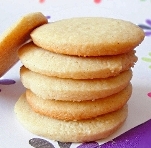 Meringue Cookie Recipe
Mint Brownie Recipe
Best Oatmeal Raisin Cookies
Orange Cookies
Peanut Butter Brownie Recipe
Pizzelle Recipe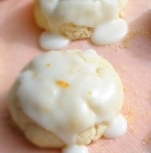 Pumpkin Bars
Pumpkin Spice Cookies
Ricotta Cheese Cookies
Rum Ball Recipe
Sesame Seed Cookies
Sour Cream Cookies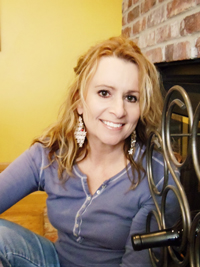 Labor Day Is Coming Up!
It's still so hot, it's hard to get excited about cranking up the over. So - there are a couple of NO BAKE stand-by's I use:
Strawberry and Marsala
Amaretto Mouse Cheesecake
The big word is NO BAKE.
And then, there's always my
Italian Drinks
collection to make a party unique and festive.
Whatever you choose for Labor Day, keep it cool. Keep it simple. And keep it safe!
Lisa
Would you like to share this page? You know how to do it! Thanks for sharing the sugar love!