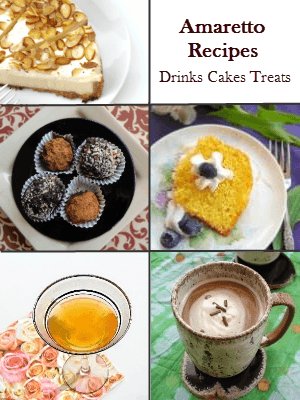 Amaretto recipes are a collection of Italian drinks and Italian cakes that use amaretto as a main flavoring component. I've made all of these - and many of them I make over and over and over. Some recipes were passed to me from my grandma, and others well, are my own concoctions.
When you hear amaretto most people think of on Amaretto Sour. BUT - there are so many other things you can do with this wonderful bottle! I mean, yes Amaretto Sour is awesome but did you know that with one more simple ingredient you can make an Amaretto Stone Sour Recipe? But enough about the drinks. If you just want to see the drinks - see my amaretto drink recipes.
There's other stuff too! I have the most wonderful Amaretto Cheesecake Recipe - it's like velvet in your mouth. And then in the summer you can make the NO BAKE Amaretto Mousse Cheesecake.
I will have to say amaretto isn't like buying a $15.00 bottle of wine. Expect to pay around $35.00 (USD) for a bottle (minimum). But don't let that be a show stopper. Heck, when you go out don't you spend a lot more than that for your bar tab?! This is a bottle with a heck of a lot of amaretto recipes to use it in. ( If you don't drink it up) Lazzaroni Amaretto and Disaronno are the two main Italian brands we use. And contrary to popular thought - there are no almonds in amaretto. Both of these brands kinda feud with each other. I've always been partial to DiSaronno just because that is what I grew up. There are some posers like Bols, DeKuyper, Hiram Walker, Luxardo, and Phillips. But for the most part those of us true to our heritage use the big-Italian-two.
Scroll below and you can see my photo gallery - hover over the picture and you will see the name of each one of the amaretto recipes. Click on the photo and you will be magically whisked away to the recipe.
I just wanted to mention that two of the cakes I have listed - they start out with a cake mix! Shhhh - it's our secret. But where I was going was - they are all day long baking endeavors. The amaretto is an enchancer along with a few other ingredients. Neither of them should take over to bake, prep, and clean up!
Thanks for stopping by !