Chocolate Tart Recipe
"Amaretto flavored crust and amaretto chocolate filling!"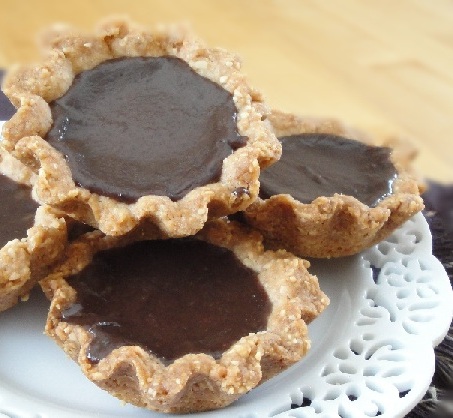 I found this chocolate tart recipe in the same "blue-haired-twenty-plus-year-old-cookbook" (that my grandma gave me) It's my dusty treasure of a cookbook.
This recipe is part of my
amaretto recipes
collection and sits in my
tart recipes
section. But it started this way....
Our friends invited us to dinner. They requested we bring a "small chocolate dessert". I had NO idea what that meant. A Hershey's Kiss? Or was this a request for something other than a HUGE 4 layer chocolate torte?
Although I would have loved to remake the simple
Chocolate Torte Recipe
, I thought putting these in the small tart pans made this a "small chocolate dessert."
This chocolate tart recipe is for a standard tart pan. But it turned out perfect in the little tart pans. I got 7 tarts from it.
If you don't have amaretto - no worries! (see the
substitutions
section below.) And if you are thinking of buying some - GO! We use amaretto A LOT in
Italian Dessert Recipes
.
I listed some other Italian cakes and Italian cookie recipes that use amaretto
below
.
Thanks for stopping by!
Lisa
Chocolate Tart Recipe
Amaretto Crust and Cream
YIELD:
One 9 inch tart
Ingredients:
Crust:
* 1/4 cup unsalted butter cut into cubes
* 1/4 cup sugar
* 1 cup of finely ground almonds
* 1/2 cup of flour
* 1 Tbsp Amaretto
Filling:
* 3 Tbsp of flour
* 1/2 cup sugar
* dash salt
* 1 cup scalded milk
* 1 ounce
UN
sweetened chocolate, melted
* 2 egg yolks, slightly beaten
* 1 Tbsp butter
* 1 Tbsp amaretto
Garnish:
(fancy word for the whipped cream part)
* 1/2 whipping cream
* 2 Tbsp sugar
* 1 Tbsp Amaretto
* 2 ounces
semi-sweet
chocolate
Procedure
* Cream the butter and sugar until smooth.
* Add the nuts and flour - mix well.
* Add amaretto and mix until the dough forms a ball.
* Press the dough evenly into the tart pan.
* Allow the dough to rest in the freezer for 30 mins, or the 'fridge for 1 hour.
* Preheat the oven to 350 degrees. Put the tart shell on a cookie sheet and bake for 20-25 mins. Or until golden.
* Cool for about 5 minutes then remove the rim and cool the shell completely on the rack.
Filling:
* Mix the flour, sugar and salt.
* Gradually add the milk and chocolate and heat over moderate heat until the mixture reaches a boil, stirring constantly.
* Boil for 2 minutes, then remove from heat
* Add the egg yolks, then return to heat for 1 minute, stirring constantly.
* Cool slightly and add butter and liqueur.
* Pour into tart shell and cool
Garnish:
* 1/2 cup of whipping cream
* 2 Tbsp of sugar
* 1 Tbsp. Amaretto
Can I omit the ground almonds?
Not really. That is what set this chocolate tart recipe apart from the normal "tarts" - the ground almonds. It gives this tart that distinct flavor that
Italian dessert recipes
have.
What other recipes use amaretto?
On this site:
If I don't use amaretto, what else can I use?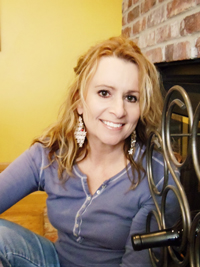 Labor Day Is Coming Up!
It's still so hot, it's hard to get excited about cranking up the over. So - there are a couple of NO BAKE stand-by's I use:
Strawberry and Marsala
Amaretto Mouse Cheesecake
The big word is NO BAKE.
And then, there's always my
Italian Drinks
collection to make a party unique and festive.
Whatever you choose for Labor Day, keep it cool. Keep it simple. And keep it safe!
Lisa
Would you like to share this page? You know how to do it! Thanks for sharing the sugar love!