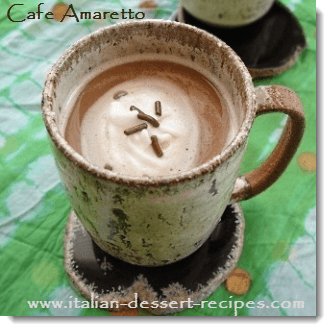 This cafe amaretto recipe is similar to my amaretto coffee recipe. Both are popular Italian drinks. This recipes parts ways from the amaretto coffee and becomes a more manly after dinner drink. It has an added ingredient, cognac.
Now, the men in our family do drink the amaretto coffee - but this recipe makes it less of a frou-frou frilly drink. This version is just in case you know an insecure man who is afraid to drink the standard amaretto coffee recipe because he just can't seem to get in touch with the sweet side of his taste buds.
If you are a fan of amaretto see my amaretto drink recipes page. I have over 20 amaretto drink recipes. It does make it nice to know that when you spend some money on a bottle of amaretto you have a little bit more to do with it other than make this recipe and maybe an Amaretto Sour here or there. Amaretto is quite versatile.
Now the cognac in this is not that big of a deal. You could most likely add any brandy. "Cognac" just means it was a brandy distilled in a particular region - which in this case, happens to be - Cognac, France. So don't get hung up on getting exactly Cognac.
If this isn't the type of amaretto drink you were looking for, scroll below and see my photo gallery. Hover over the picture. Check out the title of the recipe - it will pop up when you hover over. If you like what you see - click on the picture and it will take you to the recipe.
Thanks for taking the time to read my page. Salute -

Owner and Creator of Italian Dessert Recipes
Follow Me On
Facebook!

And
Pinterest :-)