Butterscotch Fudge Recipe
"With or Without Nuts"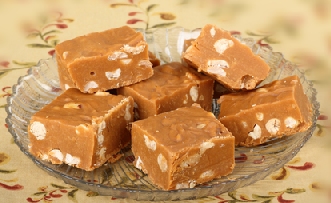 This
butterscotch fudge recipe
is one of those
easy candy recipes.
(The only
UN
easy candy recipe I have on my site is the
amaretto truffles
).
Many of our
Italian dessert recipes
call for almonds. BUT, we wouldn't use them in this recipe. My kids hate nuts so I usually section off a bit of the recipe for the nut-haters and use walnuts for the rest of us. You can see other options in the
section below
.
This
butterscotch fudge recipe
is
easy
- because it has a few ingredients - and only requires 5 minutes of dedicated time to stir. If you are looking for an EASY recipe you can walk away from and do face book while it cooks - this isn't it.
Carve out 5 minutes - just a simple 5 minutes to stand and stir it while it cooks. And you should have a decent batch of fudge.
Thanks for stopping by - Lisa
Italian Dessert Recipes
Website Owner and Developer
See the
FAQs
section below - there are a couple of swaps that can be done.
Butterscotch Fudge Recipe
YIELD: 2-3 Dozen

INGREDIENTS:

* 6 ozs butter scotch chips

* 1 stick of butter

* 1 cup of nuts

* 1 tsp vanilla

* 2/3 cup evaporated milk

* 2 cups of sugar

* 15 large marshmallow



Procedure:

* Melt the butterscotch chips and butter in a medium size bowl ( I use the microwave on a low setting)

* Set aside the butterscotch mixture

* Place the milk, sugar and marshmallows in a HEAVY saucepan (heavy, really) over medium heat.

* Bring the mixture to a boil slowly.

* Once it gets to a boil - then turn it down a bit but enough for it to still boil but not a heavy-duty-get-all-over-the-stove-boil

* Stir constantly for 5-6 minutes whiel at the lower-boil-heat

* Pour it over the butterscotch mixture (in the bowl you set aside)

* Beat until everything is well blended

* Add the nuts (if you don't have nut-haters)

Pour into a well greased dish, foil lined pan, foil lined box etc..

* Cut when cool (obviously)




Substitutions and Questions
Do I HAVE to use butter?
First off I HATE maragarine. The idiot who invented it should get no royalties, recognition and his heirs should have the product taken off the shelf. But yes, if you HAVE to - swap out HALF of the butter for maragarine.
What other nuts can I use?



We use almonds a lot - but with this butterscotch fudge recipe I fear they might poke out your gums. So, I use walnuts. Pecans would be good also. Americans use them a lot in desserts. (Wait I'm American. I mean, Americanized-cooking uses them a lot)

Back to the top of the

butterscotch fudge recipe

.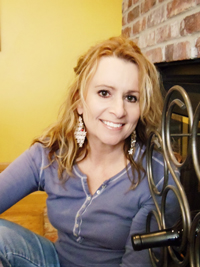 Memorial Day and Warmer Weather Treats!
It's finally warming up! In my neck of the woods we had SNOW on May 2nd. Now were on to the warm weather sweet treats!
I started celebrating by having a Sangria last night. Sangria is so easy to make - and the trick to making it spectacular is - following the super easy procedure. IF you need a brush up see:
How to Make Sangria
As for Memorial Day Goodies - I bake the LESS sticky stuff if I have to travel. And something that the kids can grab with their fingers as they cruise by the dessert table and run off to their next game. Cookies and brownies work the best for this!
The past month, these are my top five most viewed cookie recipes:
#1
Anisette Cookies
#2
Italian Wedding Cookie Recipe
#3
Pizzelle Recipe
#4
Ricotta Cheese Cookies
#5
Meringue Cookie Recipe
Have a fun filled Memorial Day!
Lisa
Would you like to share this page? You know how to do it! Thanks for sharing the sugar love!