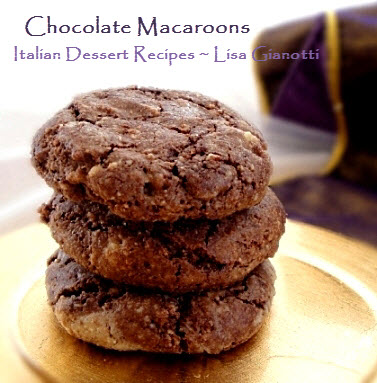 These
chocolate macaroons
were my first macaroon adventure!
Macaroons were one of my favorite cookies as a kid. And I'm really not sure if you could truly call these one of those authentic
Italian cookie recipes
. But I do remember having them quite often growing up.
When I was little I always thought these were a "hard" cookie to make. Maybe because they tasted so ultra good, I had this idea that if it was good, it had to be hard. But really there is nothing hard or crazy about it.
I do have another macaroon recipe on my site. It's for
coconut macaroon cookies
. Those are a little more light and airy, but with the almond base like these.
And if this wasn't exactly what you were looking for
scroll below
to see the full list of cookie recipes I have on my site.
Have fun. Eat a little sugar everyday and thanks for stopping by ~
Lisa
Website Owner and Developer of
Italian Dessert Recipes
Chocolate Macaroons
Ingredients:

* 2 cups almonds

* 1 cup white sugar

* 1/4 teaspoon ground cinnamon

* 1/8 teaspoon salt

* 1 egg

* 1 egg white

* 1/2 teaspoon almond extract

* 3/4 cup melted chopped semisweet chocolate

Directions

* Preheat oven to 350 degrees F.

* Line cookie sheets with parchment paper. (I use aluminum foil sprayed with Pam.)

* Finely grind the almonds, sugar, cinnamon and salt in a food processor.

* Mix egg white and egg with the almond extract.

* In a bowl add the egg mixture and the almond mixture. Stir.

* Add the melted chocolate to the bowl and mix together so that it holds.

* Moisten hands or spray them with Pam and then roll the dough into 1-inch balls.

* Place on prepared cookie sheet (with your aluminum foil or parchment paper).

* Press the balls and to 1/3-inch thick rounds. (I use the bottom of a glass)

* Bake about 12 minutes.

* If on aluminum foil gently peel back after or so and transfer to wire rack.