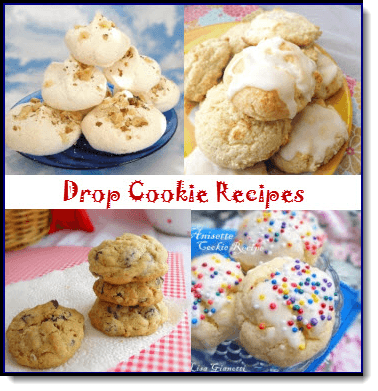 Drop cookie recipes are the easier to make of my Italian cookie recipes. It's basically cookie recipes where you can drop the dough off the spoon and onto the cookie sheet to bake. No cutting. No shaping. No chilling the dough. Just plop, drop and bake. And before I get emails and postings on my facebook page - I realize not all of these recipes are just Italian cookies.
I'm a big fan of easy - and GREAT tasting. Not because I'm lazy. But because I can get things done in one single block of time. I've got grandkids now - and they don't want to take all day making fancy-pants cookies. There's a time and place for that. And that's the beauty of drop cookie recipes. They just plop and bake.
Now, I do have my fancy pants cookie moments - where I like to play. And I have those type cookies in my rolled cookie recipes collection.
None of these should take over to prepare and get the first batch out of the oven. (Now, I don't know how long it takes you to clean up tho!)
So what is needed to make to make these recipes that's out of the ordinary? Nothing really. We use three main things and sometimes a fourth. They are:
REAL BUTTER
Nuts
Flavorings - anise, almond or rum
Liquor - Although we use a liquor often in Italian Dessert Recipes each recipe on this site has substitution suggestions if you don't wish to use the alcohol.
So, the good news is most of the main ingredients needed for most Italian dessert recipes are sitting in your cabinet or can be found in a *normal* supermarket. No fancy food shopping needed!
To see the recipes - scroll below to my photo gallery. The name of the recipe will pop up if you hover over it. If you like the description - click on the picture and you will be whisked away to the recipe.
Thanks for stopping by - and happy baking!