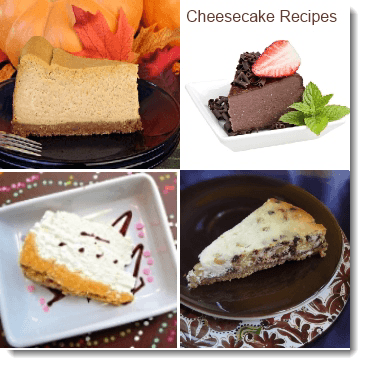 This baked cheesecake recipe list is a subset of my Italian cakes collection. "Baked" and "no-bake" are two entirely different desserts.
(If you just want to skip down to the list of cheesecake recipes - then click on any of the photos below in the cake photo gallery) A baked cheesecake recipe is the more traditional cheesecake. It's denser. And far more rich than the "non" baked. Since I tend to focus first on the more traditional Italian dessert recipes - I bake those first. Then, when I get a nice set of the "classic" desserts - I may move to more experimenting or playing. Which in this case would be the no bake cheesecake. (And I do have one of those on my site - the Amaretto Mouse Cheesecake .)
As a kid I don't remember ever getting enough cheesecake. If I was lucky I had it once every year to two years. Our family didn't bake it near as much as I wanted. Now that I'm a "big kid" and can bake one any time I want - I can't devour them like I used to when I was in my early twenties.
This recipe list - is a list of cheesecakes I have baked myself. Some have been in my family for years. And others, I decided to give a try when I was having company over or my kids requested it for their birthday.
So what's the difference between a baked cheesecake and a non-baked cheesecake?
First and foremost - THE FLAVOR
Second - The texture (baked is denser)
Third - Baked has eggs - no-baked doesn't
Fourth - Effort (A baked cheesecake will take at least an hour - usually more)