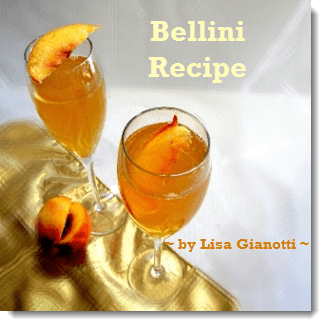 This bellini recipe is one of those Italian drinks that needs to be shared more often than just New Years!
I made these for our Valentine's dinner. Before Valentine's Day, I'd only had bellinis at the Bellagio, in Las Vegas. So, when I looked up how to make an authentic bellini - I was a tad surprised. It called for white peach puree. And the best way to make this IS with white peach puree. Really!
Okay, I know white peaches aren't available just everywhere. So there's a workaround. I put the peach schnapps version in here too.
These bellinis are so good I wished I would have purchased two bottles of champagne. One for me. One for my husband. (I'm serious!)
One thing to note, the fresh white peach puree will make the drink murky - and you can see that in my photo.
And predictably, the peach schnapps version does look pretty and but it tastes kinda "meh". Any cheap bar could make it. So, you can think of it as a back up. Go for fresh peaches if you can! And go for white peaches if you can!
I answered a few questions in the section below.
Thank you for visiting my site -

Owner and Creator of Italian Dessert Recipes
Follow Me On
Facebook!

And
Pinterest :-)