Chocolate Raisin Cookies
"With rum soaked raisins!"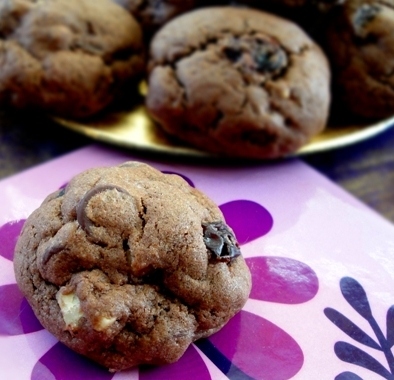 These
chocolate raisin cookies
are a fantastic! And they just happen to be one of those fairly simple
drop cookie recipes
! The rum soaked raisins and walnuts give it that authentic Italian cookie flavor!
I have to admit I don't like chocolate chip type cookies. But this recipe takes chocolate chip type cookies from kindergarten to graduation.
Tis true, this another
Italian dessert recipe
that uses alcohol. We do that a lot! Again, many of our recipes can be modified. See
substitutions
section below if you have questions.
If you don't want to go overboard chocolatey like this
Italian cookie recipe
calls for - check out the
Chocolate Cookie Bars
. They have a more traditional cookie bottom for the base with the rum soaked raisins as the top layer. I gotta say this cookie is excellent and I went in with a childish-I-hate-chocolate-chip-cookie-attitude. I firmly rebuked myself, and apologized to my inner bad attitude. I will love this chocolatey-type-chocolate-chip-cookie FOREVER! Those rum soaked raisins helped make a believer.
Hope you enjoy it too. And thanks for stopping by!
Lisa
Chocolate Raisin Cookies
Rum Soaked Raisins are the key
YIELD:
4 Dozen
Ingredients
* 1 cup butter, softened
* 1 cups white sugar
* 1/2 cup packed brown sugar
* 2 eggs
* 2 teaspoons vanilla extract
* 2 cups all-purpose flour
* 2/3 cup cocoa powder
* 3/4 teaspoon baking soda
* 1/4 teaspoon salt
* 1 cups semisweet chocolate chips
* 1 Cup raisins soaked in rum
* 1/2 cup chopped walnuts
Procedure
* Preheat oven to 350 degrees.
* Set raisin in flat bowl and pour rum over them to soak in while you prepare the chocolate raisin cookie batter.
I sometimes *zap* the raisins and rum for 25 seconds or so, if my raisins are crusty hard.
* In large bowl, beat butter, sugar, eggs, and vanilla until light and fluffy.
* Combine the flour, cocoa, baking soda, and salt; stir into the butter mixture until well blended.
* Drain off all reserved liquid from the rum soaked raisins.
* Mix in the chocolate chips, raisins and walnuts. Drop by rounded teaspoonfuls onto ungreased cookie sheets.
* Bake for 8 to 10 minutes in the preheated oven, or just until set. These chocolate raisin cookies will fool you at 8 minutes. I was dead set on 8 minutes to cook them and I'd be super hesitant to bake over the 8 mins. They will be chewy inside with a slightly shiny outside and can easily be over cooked if you are looking for visible doneness.
Cool slightly on the cookie sheets before transferring to wire racks to cool completely.
Can I use shortening for some of the butter?
Don't! There is no need. You can keep your cookies from looking like frisbees by setting the dough in the fridge before dropping them on the cookie sheet. It keeps the butter cooled. If you notice my cookies, that is what I did. Generally when they spread like pancakes it's from the butter being too warm prior to baking.


What can to soak the raisins in - besides rum?
An alcohol is what gives this chocolate raisin cookie it's authentic flavor! But there a few things you could use instead. Here's some options:


orange juice
bourbon
rum flavoring mixed with orange juice
Will currants or golden raisins work?
Probably. Never done it. Just make they soak away! The rum is what makes these cookies sooooo good!



Back to the top of this Chocolate Raisin Cookies




Other Italian Cookie Recipes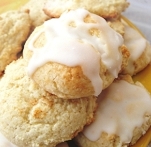 Almond Butter Cookies
Amaretto Cookies
Amaretto Lace Cookies
Almond Cookie Recipe
Anisette Cookies
Apricot Bars
Baklava Recipe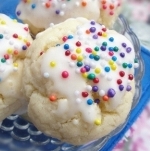 Bourbon Ball Recipe
Breakfast Cookie Recipe
Brown Sugar Cookie Recipe
Butterscotch Bars
Cappuccino Cookies
Caramel Cookie Recipe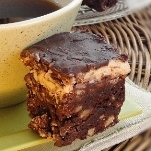 Chewy Ginger Cookies
Chocolate Crinkle Cookies
Chocolate Macaroons
Chocolate Raisin Cookies
Coconut Macaroon Cookies
Coffee Brownies
Cornflake Cookies
Date Cookies
Eggnog Cookie Recipe
Florentine Cookies

Homemade Granola Recipe
Italian Fig Cookies
Italian Wedding Cookie Recipe
Kourabiedes
Lemon Cookie Recipe
Lemon Shortbread Recipe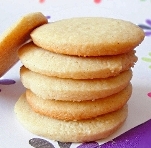 Meringue Cookie Recipe
Mint Brownie Recipe
Best Oatmeal Raisin Cookies
Orange Cookies
Pizzelle Recipe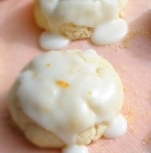 Pumpkin Bars
Pumpkin Spice Cookies
Ricotta Cheese Cookies
Rum Ball Recipe
Sesame Seed Cookies
Sour Cream Cookies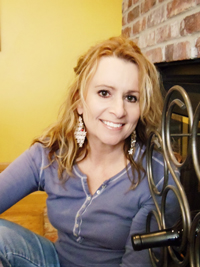 Labor Day Is Coming Up!
It's still so hot, it's hard to get excited about cranking up the over. So - there are a couple of NO BAKE stand-by's I use:
Strawberry and Marsala
Amaretto Mouse Cheesecake
The big word is NO BAKE.
And then, there's always my
Italian Drinks
collection to make a party unique and festive.
Whatever you choose for Labor Day, keep it cool. Keep it simple. And keep it safe!
Lisa
Would you like to share this page? You know how to do it! Thanks for sharing the sugar love!