Harvey Wallbanger Recipe
"Orange Juice With a Treat!"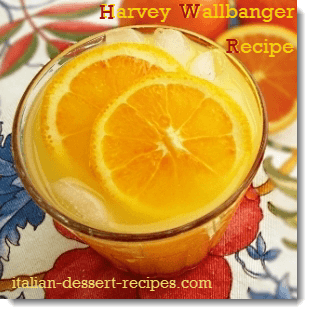 This Harvey Wallbanger Recipe is one of those authentic Italian drinks. It's old school classic. My grand parents used to drink 'em. And my husbands parents used to drink them. Harvey Wallbangers key ingredient is Galliano.
Galliano is an Italian liqueur sold at most liquor stores. I also have a Harvey Wallbanger Cake recipe that uses the Galliano. So don't think your bottle will sit on the shelf and only be used in the drink. Too - the cake is one of those box cake mix recipes where you start with a mix and add a few little extra ingredients to give it that unique Italian cake flavor. (But you don't have to tell anyone that.)
Back to this recipe - your main flavoring will come from the oranges - so choose nice ripe ones. The vodka gives it a lil' zing and the Galliano adds the complimentary herb flavoring. Personally I could use a little more of the Galliano and vodka - but you decide.
if this wasn't exactly what you were looking for - scroll below and you will see my photo gallery. Hover over the photo and the name of the drink recipe will appear. If you want to look at the recipe and it's ingredients just click on the photo.
Salute ~

Owner and Creator of Italian Dessert Recipes
Follow Me On
Facebook!

And
Pinterest :-)


Harvey Wallbanger Recipe
YIELD: 1 serving
Ingredients
*2 ozs vodka
*5 ozs fresh orange juice
*1 oz fresh Galliano
Procedure
* Pour the vodka and orange juice over the rocks in a highball glass. Stir.
* Float the Galliano over a bar spoon towards the back of the glass.
* Garnish with oranges.
So this is tops to make and serve. A real quick tasty fix!
---
W

hat is Galliano?

First off Galliano is a brand name, like Kraft or Coca Cola. As far as what it is - it's an Italian liqueur. It's an herb flavored and has something like 80+ herbs and berries. The only one I can really smell right off is the anise - which is like licorice.
---
I

s fresh orange juice necessary?

I always think fresh is best. And the orange juice is the main flavoring in this. The vodka is hidden and the Galliano compliments the oranges. If you really really really have to use a pre-made orange juice - go for one like Simply Fresh. Or something that has no preservatives.

Back to the Harvey Wallbanger recipe.
---
November 2017
Top Five Most Viewed Italian Drink Recipes Pages
---
Italian Drinks →