Amaretto Vodka Peach Schnapps
"No fancy name. Just a good drink."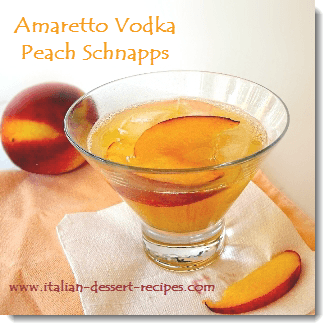 This amaretto vodka peach schnapps is part of my amaretto drink recipes collection which is a part of my huge collection of Italian drinks . Amaretto is a big deal in our culture. It's our most well known liqueur. Most people know of it from an Amaretto Sour. But there are so many other wonderful drinks and desserts you can use it for.
This recipe calls for melon liqueur or midori. But really it's optional. I just happen to love love love Midori. But, I wouldn't drive around the corner or burn up a tank of gas to get it. If you have it on hand it's a nice add-in.
If this wasn't what you were looking for check out the other Italian drinks on my site. Just hover over the photos in my photo gallery you will see the name of the drink recipe. If you want to see the recipe then just click on it.
Thanks for stopping by ~

Owner and Creator of Italian Dessert Recipes
Follow Me On
Facebook!

And
Pinterest :-)


Drink Recipe
YIELD: 1 Serving
Ingredients
* 1 oz Findlandia vodka (see below)
* 1 oz amaretto
* 2/3 oz midori or a melon liqueur ( totally optional!)
* 1 oz peach schnapps
* 1 2/3 oz fresh orange juice
Procedure
* Juice your oranges!
* Mix all ingredients together
* Strain
* Pour into a chilled glass and serve
* A quick hit!
---
D

oes it have to be peach schnapps?

Nope. You can get a peach liqueur of any brand.
---
C

an I use store bought orange juice?

You can. But really there is nothing like fresh squeezed juices in cocktails. If you are going to use store bought - get one as close to natural as you can. No corn syrup added, no sugar added. Get my drift?
---
D

o I have to use Finlandia vodka?

Nope. It's just my personal favorite. Any vodka will work.

Back to the top of the amaretto vodka peach schnapps recipe.
---
November 2017
Top Five Most Viewed Italian Drink Recipes Pages
---
Italian Drinks →