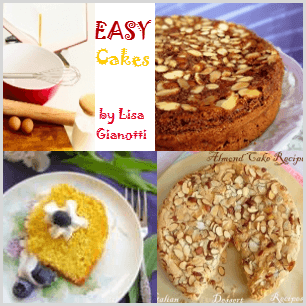 These 10 easy cake recipes are either: One bowl or box cake mix recipes where you add just a few ingredients to make them unique. Even though the theme of my website is Italian dessert recipes - these easier recipes are not necessarily Italian cakes. I have other favorites in here too!
Don't let cake mixes fool you! My Italian grandma made one of my favorite cakes for years. Unbeknownst to me it was from a mix. And she never told me. I always thought because it was so good, so unique - that it had that special grandma magic. So when I was in my twenties and I asked her for the recipe. I was shocked when she told me "get a yellow cake mix...." I said, "Grandma you never told me you used a cake mix?!" I almost cried. I thought grandma's only cooked from scratch?!?! She set me straight on that one. She replied, "Hey, hey hey. There's nothing wrong with cake mixes!" It was the Italian Rum Cake Recipe. And this was my daughters request every year for her birthday from about the time she was sixteen until twenty-six. Then she picked another "favorite". Back to easy cake recipes...
The other set that makes up this list is - one bowl from batter to oven. Which means you aren't doing a million steps in between. Your not separating egg whites. You're not getting any fancy ingredients. Now, just 'cause it's easy, doesn't mean bland. Don't always think if a recipe is long and complicated it is far superior than an easy one. Why do we want to make things harders? So for the one-bowl-ers these have:
No weird food ingredients needed
No odd cake pans or gadgets needed
Most of these you can count on at least from mixing, prepping and baking. (Just because they're easy doesn't mean they cook shorter. Ha!)
I use my own website all the time. And I can tell you these easy cake recipes are my go-to for the last minute, "Hey mom, I have a meeting tonight and I'm supposed to bring dessert..." *Sigh* . The recipes are below in my photo gallery. Hover over the picture - you will see the recipe name. If it interests you - click on it - and you will be magically whisked away to the recipe itself.
Thanks for stopping by and enjoy my site while you are here -