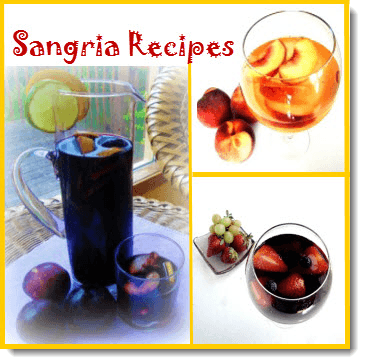 Sangria recipes usually only have four ingredients:
a fruit
a wine
a small amount of sugar
a trace of liqueur
And the best thing about sangrias - they are make-ahead drinks. There's nothing worse than a guest showing up early, and you have to offer a drink when you barely have your bar set up! The key in to a sangria isn't about the wine. Isn't about the fruit. Isn't about which type of sangria you make. It's about the prep.
It's not that it takes a lot of time, but it's about the order of things. It probably won't take you any longer than to get everything prepped.
It's about the "sitting" time. And I wrote a quick refresher page on how to make a Sangria.
In the picture gallery below you can see the four recipes for sangria. And also the link to the how-to page. You can take a lot of lee way - as far as wine goes, and there's a little "give" on the fruit.