Date Bread
"Buttery. EASY! One bowl recipe"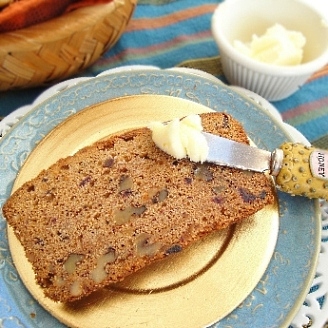 This date bread recipe is buttery good. It definitely qualifies and an
easy cake recipe
. It's one bowl from oven to serving.
Dates are a standby in many
Italian dessert recipes
. My mom loved to cook with them - mainly because she was a health food freak and dates made her feel like she added an extra dose of earthiness to our growing bodies.
This recipe is kinda an
Italian cake
standard - except it's in a loaf pan. My auntie Rose used to make this for holiday gatherings. We usually served it with dinner, even though it's sweet and most would consider it a dessert. And after while I made a whole section of
Italian bread recipes
since it seemed to fit better in this category. Just remember - this is sweet like a cake - but made in a loaf pan.
Thanks for stopping by - Lisa
See the
substitution section
below for tips and questions.
Date Bread
YIELD: 1 loaf

INGREDIENTS:

* 1 cup butter

* 1 cup of sugar

* 1 1/2 cup of chopped dates

* 1 cup of boiling water

* 1 1/2 cup of walnuts or almonds chopped

* 2 cups of flour, sifted

* 1 tsp of baking soda

* 1 egg beaten



Procedure

* Preheat oven to 350 degrees.

* Pour boiling water over the dates and let stand.

* Cream the butter and sugar until light, then add egg and beat again.

* Add the nuts.

* Pour in the dates AND the water. Beat well.

* Add the flour and baking soda.

* Pour into a loaf pan. (A bigger loaf pan!)

* Bake for an hour


Substitutions and Questions
Can I substitute oil for the butter?
Nope. Never. Well at least not in this recipe. The butter is a primary flavoring ingredient. Notice there is no added cinnamon, nutmeg or ginger etc.
Pre-sweetened dates or not?



Not! I think MOST chopped pre-sweetened dates have very little flavor. They have been sitting in a sugar and dried for heaven knows how long.

Always go for an ingredient that is closest to it's natural flavor - or the way it grew. (Ugh, I sound like my mom!) So if you have to buy whole dates and chop - then do it! The flavor is worth it.


Top of date bread.





Other

Italian Cake Recipes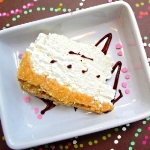 Almond Cake Recipe
Almond Pound Cake
Amaretto Cake Recipe
Amaretto Mousse Cheesecake
Apple Pound Cake
Applesauce Cake Recipe
Beer Cake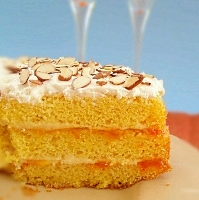 Blueberry Cake Recipe
Blueberry Coffee Cake Recipe
Cappuccino Cake
Cassata Cake
Caramel Cake
Chocolate Amaretto Cake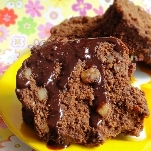 Chocolate Buttermilk Cake
Chocolate Torte Recipe
Chocolate Walnut Cake
Coconut Layer Cake
Coconut Cake Recipe
Date Bread
Double Chocolate Brownie Recipe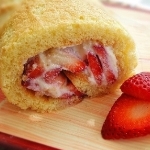 Eggnog Cake Recipe
Flourless Chocolate Torte
Fresh Strawberry Cake Recipe
Gluten Free Chocolate Cake Recipe
Harvey Wallbanger Cake
Italian Cream Cake Recipe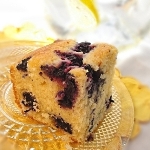 Italian Rum Cake Recipe
Jelly Roll Recipe
Lady Fingers Recipe
Lemonade Cake
Lemon Layer Cake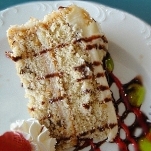 Lemon Pound Cake
Mint Brownie Recipe
Peach Cake Recipe
Poppyseed Cake Recipe
Recipe For Chocolate Cheesecake
Pear Cake Recipe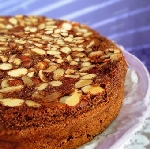 Pineapple Carrot Cake
Pistachio Cake Recipe
Plum Cake Recipe
Pumpkin Cake
Pumpkin Bread Recipe
Recipe For Chocolate Cheesecake

Recipe For Pumpkin Cheesecake
Ricotta Cake
Spice Cake Recipe
Sour Cream Cake Recipe
The BEST Tiramisu Recipe
Walnut Cake Recipe
Whipped Cream Recipe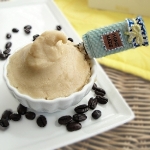 Yogurt Cake
Frostings - Glazes - Icings
Click here to see my
cake frosting recipes
.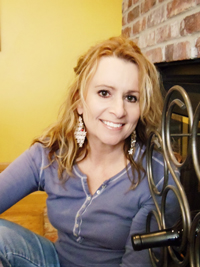 Labor Day Is Coming Up!
It's still so hot, it's hard to get excited about cranking up the over. So - there are a couple of NO BAKE stand-by's I use:
Strawberry and Marsala
Amaretto Mouse Cheesecake
The big word is NO BAKE.
And then, there's always my
Italian Drinks
collection to make a party unique and festive.
Whatever you choose for Labor Day, keep it cool. Keep it simple. And keep it safe!
Lisa
Would you like to share this page? You know how to do it! Thanks for sharing the sugar love!