Date Cookies
"With the hidden bourbon date filling"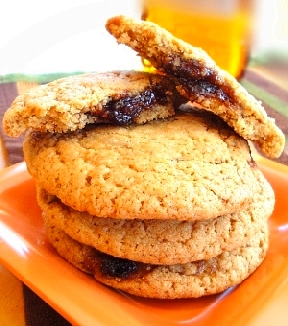 These
date cookies
have a hidden surprise - the dates are hidden inside the cookie. And double surprise - the have been cooked in bourbon! Yes we (Italians) love to cook with alcohol! If you don't have any bourbon on hand. Substitutions can be made. See
substitutions
below.
Dates are a fairly common in
Italian cookie recipes.
As a kid, I thought dates were lame, and especially in desserts. But, as I've gained a wrinkle or two, I reverted back to my roots and my mom's cookie recipes she baked prior to her green hippie tangent era.
If you have dates and were wanting to use them up I have two other date recipes on my site:
Date Bread
Date Bars
Both of these have been at my family dinners for a long time.
As for this recipe it's one of those
drop cookies recipes
, but with one extra step between the "drop":
First: Drop 1 teaspoon of batter.
Second: Drop half teaspoon of bourbon date filling on top.
Then: Cover with half teaspoon of cookie dough and seal.
Date Cookies
With the hidden bourbon filling
YIELD - Makes 3 dozen date cookies
Ingredients:
* 1 cup packed brown sugar
* 1/2 cup butter shortening (Yes, you read right - "shortening". *Gasp* I know!)
* 1/4 cup buttermilk
or water
(I have used water and/or normal milk and it turns out ok)
* 1 large egg
* 1 3/4 cups all-purpose flour
* 1 tsp vanilla
* 1/2 teaspoon cinnamon
* 1/2 tsp baking soda
Filling Ingredients
* 1 lb of dates (3 cups - about)
* 1 1/2 cups of water
* 1/4 cup of bourbon ( you can use water if you don't want the alcohol)
Procedure
(Prepare date filling first, let cool while making the cookie batter. See below.)
* Preheat oven to 350 degrees.
* Mix brown sugar, shortening, and buttermilk, vanilla, and egg.
* Stir in flour, baking soda, cinnamon, and salt.
* Heat oven to 350.
* Drop a rounded teaspoonfuls of the dough onto ungreased cookie sheet.
* place a 1/2 teaspoon of date filling on the cookie.
* Cover with 1/2 teaspoon of cookie dough.
* Place in oven and bake about 8-10 minutes.
* Remove from oven and transfer to wire rack after 10 minutes of cooling.
Bourbon Date Filling Procedure
Heat up the pound of dates, bourbon and sugar over low heat
Stir CONSTANTLY don't go anywhere!
Wait until it gets thick ( about 10 minutes)
Set it aside to cool
Procedure
* Place all date filling ingredients in sauce pan
EXCEPT the nuts!
* Place pan on moderately low heat
* Stir constantly until mixture thickens ( Stay there , don't get impatient!)
* Remove from heat
* Add nuts
* Set aside and let cool while you mix up the cookie batter
The cookie portion of the recipe is straight out of the old red covered Betty Crocker Cookbook that has been around forever. The bourbon date filling has been adapted
Can I substitute butter in place of the shortening?
Let me start with - I HATE SHORTENING! And I mention that about every page when the substitution is asked about. But, I'm afraid the date cookie would spread too thin and that bourbon filling surprise would melt into the dough - and there goes the best part. The hidden filling. These will spread even with the shortening, but the filling stays enclosed.


What can I use instead of bourbon in the date filling?
There are several things. But the bourbon gives the date filling that little punch. Here's some options though:


rum flavoring
rum
orange juice
I'm out of walnuts, what other nuts are used in Italian dessert recipes?
There are two that could be swapped out



blanched almonds
(make sure and get them real small though)


pistachios
(I'd halve the amount though, since these guys are flavorful!)




More Italian Cookie Recipes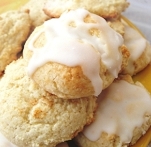 Almond Butter Cookies
Amaretto Cookies
Amaretto Lace Cookies
Almond Cookie Recipe
Anisette Cookies
Apricot Bars
Baklava Recipe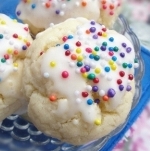 Bourbon Ball Recipe
Breakfast Cookie Recipe
Brown Sugar Cookie Recipe
Butterscotch Bars
Cappuccino Cookies
Caramel Cookie Recipe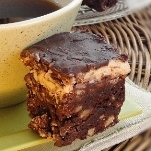 Chewy Ginger Cookies
Chocolate Crinkle Cookies
Chocolate Macaroons
Chocolate Raisin Cookies
Coconut Macaroon Cookies
Coffee Brownies
Cornflake Cookies
Date Cookies
Eggnog Cookie Recipe
Florentine Cookies

Homemade Granola Recipe
Italian Fig Cookies
Italian Wedding Cookie Recipe
Kourabiedes
Lemon Cookie Recipe
Lemon Shortbread Recipe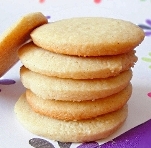 Meringue Cookie Recipe
Mint Brownie Recipe
Best Oatmeal Raisin Cookies
Orange Cookies
Pizzelle Recipe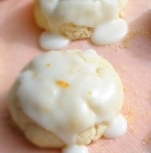 Pumpkin Bars
Pumpkin Spice Cookies
Ricotta Cheese Cookies
Rum Ball Recipe
Sesame Seed Cookies
Sour Cream Cookies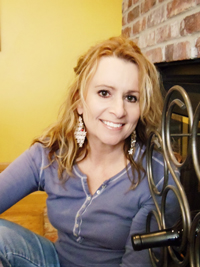 Labor Day Is Coming Up!
It's still so hot, it's hard to get excited about cranking up the over. So - there are a couple of NO BAKE stand-by's I use:
Strawberry and Marsala
Amaretto Mouse Cheesecake
The big word is NO BAKE.
And then, there's always my
Italian Drinks
collection to make a party unique and festive.
Whatever you choose for Labor Day, keep it cool. Keep it simple. And keep it safe!
Lisa
Would you like to share this page? You know how to do it! Thanks for sharing the sugar love!