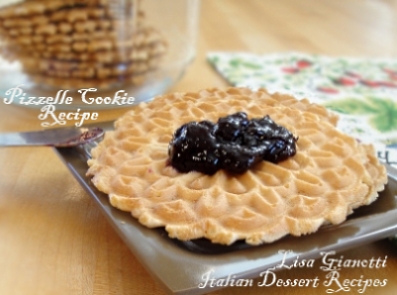 The pizzelle recipe is one of many traditional
Italian cookie recipes
.
These are definitely NOT one of those
easy Italian dessert recipes
. Sorry.
Pizzelles remind me of something old ladies would serve at a tea party. They are light and crisp with out much meat to them. And they get their dainty shape from a pizzelle maker.
You will need a
pizzelle iron
to make them. A
pizzelle iron
is a lot like a waffle iron. You pour the batter on the iron. Let it cook and remove.
Now - I've not done this, but you *could* take the cookie off the iron and while it's hot roll it to make cannoli shells (see
cannoli recipes
. Never done it. But I think it would work!)
Even though these aren't an
easy Italian dessert recipes
- if you are looking for traditional - this is it. And the extra effort does make a nice presentation!
There are a couple of ways to serve them:
dusted with powdered sugar
(traditional)
with jam on top
(traditional)
with nutella
(pushing the traditional envelope - but kids LOVE this!)
If this wasn't the type of cookie you were looking for - scroll down and see the full list of
Italian cookie recipes
I have on my site.
And thanks for stopping by!
Lisa
Website Owner and Developer (oh, and LOVER) of
Italian Dessert Recipes
.
Pizzelle Recipe
One of many traditional Italian Cookie recipes
YIELD - Makes 30 pizelle cookies

Ingredients:

* 3 eggs

* 1 3/4 c. flour

* 1/2 tsp. anise seed or extract (optional see substitution ideas below)

* 1/2 c. UNSALTED butter (1/4 lb.)

* 2 tsp. baking powder

* 3/4 c. sugar

* 1 tsp. vanilla extract



Procedure

* Beat eggs and sugar.

* Add cooled melted butter and vanilla and anise.

* Sift flour and baking powder and add to egg mixture.

* Drop the stiff batter by spoon.

(Batter can be refrigerated and used at a later time)

I'd say total prep time and pizzelle iron warm up, PLUS making the cookie would be about . Now the clean up....that's another story.