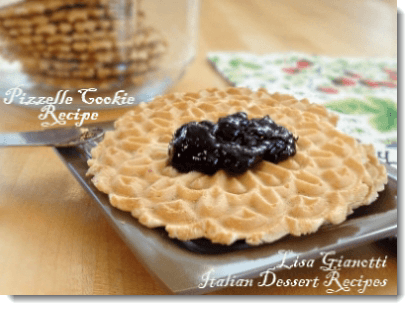 The pizzelle recipe is one of those very traditional Italian cookie recipes. And even though you may find them abroad - guarantee we're gonna take ownership of them :-).
Pizzelles remind me of something old ladies would serve at a tea party. They are light and crisp with out much meat to them. And they get their dainty shape from a pizzelle maker.
If you are in a hurry these are definitely NOT one of my
easy Italian dessert recipes
. Sorry. Here's why... You will need a
pizzelle iron
to make them. A
pizzelle iron
is a lot like a waffle iron. You pour the batter on the iron. Let it cook and remove.
Now - I've not done this, but you *could* take the cookie off the iron and while it's hot roll it to make cannoli shells (See my cannoli recipes for the recipe to make the filling) Even though these aren't one of my quick hit - easy Italian dessert recipes - they are very unique and traditional. So, if you don't mind just a smidge of more work this will look pretty and impress your friends. (The extra effort really does make a nice presentation!)
There are a couple of ways to serve these:
dusted with powdered sugar (traditional)
with jam on top (traditional)
with nutella (This is pushing the traditional envelope - but kids LOVE this!)
If this wasn't the type of cookie you were looking for - scroll down and see the full list of Italian cookie recipes I have on my site.
And thanks for stopping by!

Owner and Creator of Italian Dessert Recipes
Follow Me On Facebook!

And Pinterest :-)