Fresh Strawberry Desserts
"Marsala, sugar - that's it!"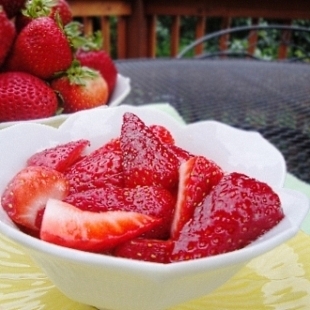 This is one of several fresh strawberry desserts on my website. If this isn't what you are looking for scroll below and see if the others are what you need.

This fruit dessert recipe is flavored with marsala wine which is used to flavor some Italian dessert recipes (such as the cannoli shell). Just a little Italian food trivia to store away for the next time you are strapped for party conversation.



This is quick and easy!





I happened to have marsala the day I made this recipe. I have tried other wines. You can experiment with this too. There are some

substitutions in the section below

to kinda think about.




Fresh Strawberries with Marsala
Yield:1 Pound

INGREDIENTS

1 lb (450 g) of strawberries

1/8 cup (30mL) sugar

1/8 cup (30mL) marsala



Procedure

* Hull strawberries slice in quarters. (If strawberries are small slice in half)

* Mix wine and sugar in bowl and somewhat dissolve.

* Pour wine and sugar over cut strawberries.

* Refrigerate in covered container for at least 30 minutes.





How long will this keep?
Not long. The acid in the wine eats through fresh strawberries. And too, they will become an unappetizing gray after a day or two.
What other wine works well in fresh strawberries?
I've been pleased with the following:


dry red
zinfandel
Can I use frozen strawberries in this?



Hmmmmmm. Well the key here is "fresh" and that usually implies NOT frozen. I honestly don't think it would be tasty. After defrosting frozen strawberries you usually have mush.


Back to the top of fresh strawberry desserts.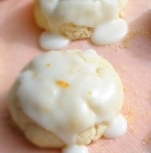 Plum Recipes
Plum Cake Recipe
Plum Jam Recipe
Plum Tart
Oranges
Orange Bread Recipe
Orange Cookies
Orange Glaze
Figs Recipes
Italian Fig Cookies Recipe

Strawberry Recipes Strawberry Mousse Recipe Strawberries and Marsala Recipe Fresh Strawberry Cake Recipe Berry Sangria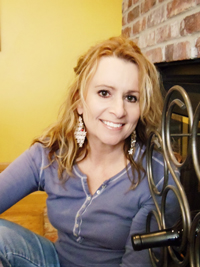 Memorial Day and Warmer Weather Treats!
It's finally warming up! In my neck of the woods we had SNOW on May 2nd. Now were on to the warm weather sweet treats!
I started celebrating by having a Sangria last night. Sangria is so easy to make - and the trick to making it spectacular is - following the super easy procedure. IF you need a brush up see:
How to Make Sangria
As for Memorial Day Goodies - I bake the LESS sticky stuff if I have to travel. And something that the kids can grab with their fingers as they cruise by the dessert table and run off to their next game. Cookies and brownies work the best for this!
The past month, these are my top five most viewed cookie recipes:
#1
Anisette Cookies
#2
Italian Wedding Cookie Recipe
#3
Pizzelle Recipe
#4
Ricotta Cheese Cookies
#5
Meringue Cookie Recipe
Have a fun filled Memorial Day!
Lisa
Would you like to share this page? You know how to do it! Thanks for sharing the sugar love!