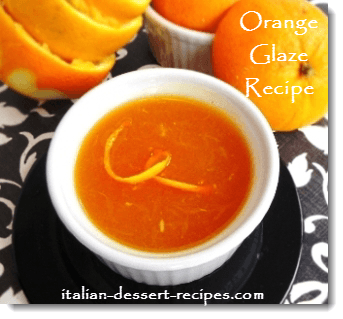 This orange glaze is the melding of two great worlds - bourbon and sugar. Ok, and oranges too. What could make life better than to have a sugar and a zing hit your palette at the same time?
This is PERFECT for a sauce to put on top of my panna cotta recipe!And there are several Italian cakes on here too, which this would compliment real well. I listed a couple of them below. This glaze gets it's flavor from freshly squeezed oranges. Yes, you read that right. If you really want a killer glaze you NEED to squeeze oranges. Don't worry about a fancy juicer. I got one - BUT I WON'T USE it on this glaze. Why? Because I don't want any rind or pith. So, the flavor is worth the elbow grease. And you can get a cheap little juicer at a Dollar Store
You can use this glaze on top of lotsa things. But I have some simple cakes and torte recipes that pair well with this glaze: Pumpkin Cake Flourless Chocolate Torte This bourbon orange glaze can be poured warm (my favorite) on the cakes OR you can chill it and serve later.
Listed below see the substitutions and FAQs. There's not a lot of leniency with this - just because there's not that many ingredients. But check out the section below if have any questions.
And thanks for stopping by -

Owner and Creator of Italian Dessert Recipes
Follow Me On
Facebook!

And
Pinterest :-)