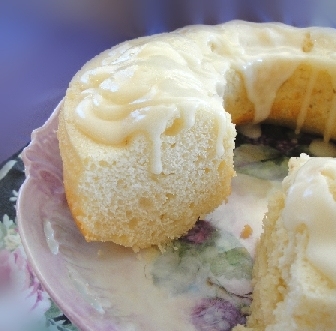 This sour cream cake recipe came from my grandma and is part of my Italian cakes collection. This
sour cream cake recipe
came from my grandma and is part of my
Italian cakes
collection. She didn't make it much ~ but I did take the recipe from her, and I love it.
My grandma and her lady friends would get together and type their recipes (yes, type) and then sell them in a book as their fundraiser. This
sour cream cake recipe
was in their little fundraiser book.
Most
Italian cakes
have a liquor in their ingredients. And this cake doesn't, but I added it in the frosting. If you don't want the rum there's workarounds. See the
substitution ideas
below.
Although the recipe
called for an icing
when the ladies went to type this - they forgot to include what icing. So, I referred to Betty. My beat up red Betty Crocker cookbook with the 40 year old stove burn marks on the back cover. And I prepared the butter-rum icing listed on page 254. Certainly, you have the red Betty Crocker cookbook, don't you? Ah, if not, I posted the rum butter glaze here.
Now, if this isn't the type of
Italian cake
you were looking for -
scroll below
and see the list Italian cake recipes I have on my site. Thanks for stopping by -
Lisa
Website Owner of
Italian Dessert Recipes
And while you are at it - join my Facebook page!
Sour Cream Cake Recipe


Ingredients:

3 eggs well beaten

1 1/2 cups of sugar

3 tablespoons FRESH lemon juice

1 1/2 cups of sour cream

2 1/2 cups of flour

1 cup packed brown sugar

1 1/2 tsp baking powder

3/4 tsp baking soda

1/2 teaspoon salt

Butter-Rum Glaze (see below - it's easy!)

Procedure

* Preheat oven to 350 degrees.

* Beat eggs, sugar for 3-5 minutes.

* Add FRESH lemon juice.

* Sift the dry ingredients together and add to the mixture along with the sour cream.

* Blend well.

Bake in greased tube or cake pan for

Ice with Butter-Rum Glaze.

Butter-Rum Glaze

1/2 cup of butter

2 cups powdered sugar

2 tablespoons rum

2 - 4 tablespoons of hot water

Procedure



* Heat butter in sauce pan until melted.

* Stir in powdered sugar and rum.

* Stir in water, 1 teaspoon full at a time, until the glaze is the consistency you want.