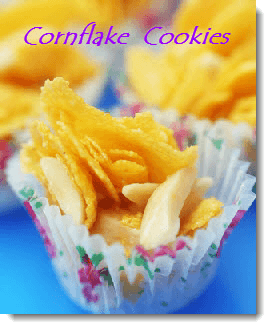 These cornflake cookies are one of those simple drop cookie recipes .
I first had these about 30 years ago. A hostess served them as part of her Christmas cookie plate. My hostess used green food coloring, shaped them into wreaths instead of dropping them in a candy cup, and then she added two red hots to the top of the "wreath" to look like holly.
This recipe calls for coconut. But you can leave it out if you want. (I have coconut-haters in my house). But if you leave it out add a tad more of the cornflakes to get enough of the cookie to stick together.
One last thing - when you drop these onto the baking sheet - you may need to squeeze the cookie together a bit, just to make sure they stick together in one piece.
Thanks for stopping by - and if this wasn't what you were looking for check out my
Italian cookie recipes
collection in the photo gallery below. If you hover over the photo, the name of the recipe will pop up. If it interests you click on the photo and it will bring you to the recipe page.
Happy baking! Thanks for stopping by -

Owner and Creator of Italian Dessert Recipes
Follow Me On
Facebook!

And
Pinterest :-)