Anise Biscotti Recipe
"It's the biscotti that has a slight licorice taste"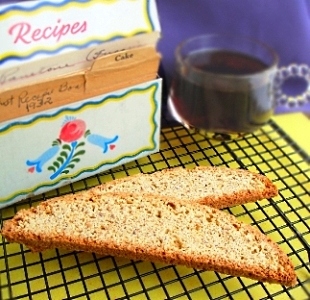 This anise biscotti recipe is my mom's. It was in my family before I was born. Every Christmas she would bake
loaves
of this biscotti.
It's one of those
Italian biscotti recipe
that may not thrill the young ones. As little kids we weren't really that thrilled. We didn't want anything crunchy. We wanted pure unadulerated white sugar American crap bakery cookies. We even had a slang name for this biscotti. Think you can guess what it is?
It's hard to believe something I hated thirty years ago (okay, forty years ago) - IS REALLY POPULAR NOW! And I guess my mom was hip before her time. All in all this anise biscotti recipe is wa-a-a-y better than the preservative laden biscotti crap sold at Starbucks. This is uber fresh and is very much a traditional
Italian biscotti recipe
.
A couple things to keep in mind while making this recipe, make sure you have set aside enough time:
Like all biscotti recipes this requires two separate baking times.
The dough needs to chill 2-3 hours after its mixed.
Enjoy making this anise biscotti recipe and have a little sugar everyday! Not tons, but enough to make you happy!
Anise Biscotti Recipe
YIELD:
9 dozen slices of biscotti!!!
Ingredients:
2 cups sugar
1 cup melted butter
4 Tbsp. anise seed
1/4 Cup anise-flavored liqueur
3 Tbsp. bourbon (See
substitution notes below
)
2 cups coarsely chopped almonds or walnuts
6 eggs
5 1/2 cups regular all purpose flour
1 Tbsp. baking powder
Procedure
* Mix sugar with butter, anise seed, anise liqueur, bourbon, and nuts.
* Beat in the eggs.
* Sift and measure flour after sifting.
*
Sift again with baking powder
into the sugar mixture.
* Blend thoroughly.
* Cover and chill the dough for 2-3 hrs.(
Yes, really!
My mom would say "follow the directions if you want it turn out right")
* On a lightly floured board, shape dough with your hands to form flat loaves that are about 1/2 inch thick and 2 inches wide.
* Make the loaves as long as your cookie sheets.
* Place no more than 2 loaves, parallel and well apart on a buttered cookie sheet.
* Bake in 375 oven for 20 minutes.
* Remove from the oven and let loaves cool on pans until you can touch them.
* Cut diagonal slices that are about ½ to ¾ inch thick.
* Lay slices on cut sides. Keep them close together on cookie sheet.
* Return to the oven (375 degrees) for 15 minutes more or until lightly toasted.
* Cool on wire racks.
Can I substitute the anise?
NOPE! No Way. That's what this is - an anise biscotti recipe.
What can I use substitute for the bourbon?
Here's what my mom has in her notes; "2 teaspoons of vanilla and 2 Tbsp water". My dad drank a lot of bourbon. Still does! I'm guessing this note means my mom probably had to use this substitution at one time.
What is anise anyway?
It's a spice we use a lot in
Italian dessert recipes
. It's comes from a plant with green feather-like leaves. It smells like black licorice and and has a flavor similar to black licorice. (But it has nothing to do with licorice.)
Do I need both the anise seed and liqueur?
I am a fly-by-the-seat-of-my-pants type person. But I'm actually gonna be uptight on my answer here. I'd say yes. Just because my mom is such a great cook and true to the Italian tradition of this recipe. She always gave this as a gift to my great grandma. And my great grandma LOVED it. My great grandma is who I am named after. She came over to America on the boat in the early 1900's when she was 18. So, if great grandma liked it - let's not mess with it.



Thank you for stopping by my Italian dessert recipes website. It's my passion, hobby - okay and I do make a little (truly, a little) money from this too.

Back to the top of the Anise Biscotti Recipe






Biscotti Recipes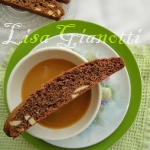 Anise Biscotti Recipe

Tuscan Biscotti Recipe Chocolate Biscotti Recipe Almond Biscotti Recipe Cranberry Pistachio Biscotti Pumpkin Biscotti History Of Biscotti Biscotti Jar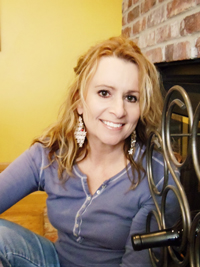 Memorial Day and Warmer Weather Treats!
It's finally warming up! In my neck of the woods we had SNOW on May 2nd. Now were on to the warm weather sweet treats!
I started celebrating by having a Sangria last night. Sangria is so easy to make - and the trick to making it spectacular is - following the super easy procedure. IF you need a brush up see:
How to Make Sangria
As for Memorial Day Goodies - I bake the LESS sticky stuff if I have to travel. And something that the kids can grab with their fingers as they cruise by the dessert table and run off to their next game. Cookies and brownies work the best for this!
The past month, these are my top five most viewed cookie recipes:
#1
Anisette Cookies
#2
Italian Wedding Cookie Recipe
#3
Pizzelle Recipe
#4
Ricotta Cheese Cookies
#5
Meringue Cookie Recipe
Have a fun filled Memorial Day!
Lisa
Would you like to share this page? You know how to do it! Thanks for sharing the sugar love!