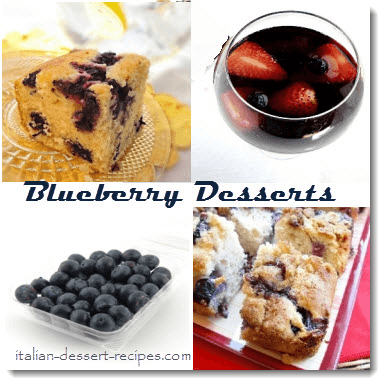 This blueberry dessert recipes page is a one page devoted to Italian Dessert Recipes where the main ingredient is... you guessed it - blueberries.
I generally am all about "fresh". But you can substitute frozen blueberries in the Italian cakes if you are super careful! You would need to:
Thaw the blueberries for an hour or two in a strainer
Pull the blueberries out of strainer with a slotted spoon and lay the berries on paper towel
Blot the top of berries carefully with a separate paper towel
As always fresh is best. But not always practical in the dead of winter. These range in time to prepare from 10 minutes to - just depends what you choose. The berry sangria would be your 10 minutes, and the cakes would be about an hour.
The blueberry dessert recipes aren't fancy or out of the ordinary. And as far as the Italian drinks that use blueberries, mostly the berry sangria - don't expect a "blueberry" tasting drink. The blueberry is just in there for "pretties".
Blueberries are one of my favorite fruits. I really never thought about how they grew – UNTIL I went to Blueberry Hill in Anchorage. My mom and her husband lived in Anchorage for 18 years – it wasn't until the last few years they lived there that I was able to visit. For our first day of exploring my mom took us blueberry picking. And it was entirely different than what I expected. I was thinking of raspberry and blackberry bushes she used to take us to when we were little. But surprise! Blueberries look like carpet. They grow right next to the ground. So we sat down on the hill with blueberries surrounding our legs - they were barely one inch off the ground.
Ok, I digress - you are looking for blueberry dessert recipes - not necessarily a walk down my memory lane. :- ) My hopes are that as the years pass I discover more things to make with blueberries and that I can add on to this page. As for now - I just have the 3 recipes.
If you don't see exactly what you are looking for - check out my home page Italian Dessert Recipes. I have over 230 recipes I have been making throughout the years. Most of them are Italian desserts. But I have several other desserts that my kids and grand kids have asked for through out the years. Enjoy and explore.
Thanks for stopping by -