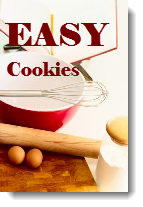 These easy to make cookies are one bowl recipes and for the most part they are drop cookie recipes. You know the kind of cookies that you stir, plop and bake on the cookie sheet. There are NO wierd food ingredients, and they still have that unique Italian dessert flavor. I have three kids, two still at home PLUS two step-kids. Half of the time I have six people to cook for. Since we almost NEVER eat out, "easy to make anything" is my favorite way to go! Although I have many Italian cookie recipes on my these are EASY ones . If you don't see what you are looking for in the easy cookies, check out myeasy cake recipes.
Although I have tons more Italian cookie recipes I pulled out the most popular authentic and easiest. The Italian wedding cookie recipe is probably the best to start with if you have kids or don't have a whole lot of ingredients in the house. I've been making this since I was probably eight years old.

Owner and Creator of Italian Dessert Recipes
Follow Me On
Facebook!

And
Pinterest :-)


PS: Don't see any cookies you want to try? Why not a quick to put together cake? I have about five cakes are the easiest to make they are box cake mix recipes and you add some doo-dads to the mix.
PPS: Both this page the box cake mix recipes are EASY because:
There are no weird freaky ingredients
No long drawn out procedures
No long prep time
No crazy pans or gadgets that you will use once a year
None of these should take over to prep and bake