Peach Tart Recipe
Use a refridgerated pie crust!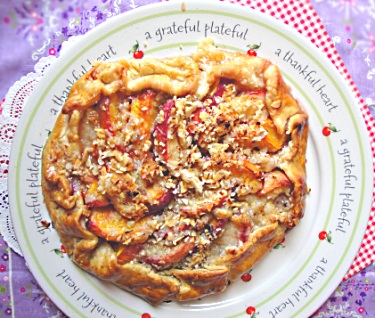 This
peach tart recipe
is part of my
peach dessert recipes
collection. It's a simple do-it-quick dessert. And really, I made it for breakfast yesterday - and used a store bought crust to make it even easier.
I had a tons of white peaches and yellow peaches that were about to spoil. I felt I needed to bake because it was a holiday morning.
Italian dessert recipes
usually don't include pies. Instead we make crostadas or
tart recipes
. And really, I think tarts easier. Plus it showcases the fruit more. Know what I mean? (If you like cooking with fresh fruit, see my my
fruit dessert recipes
page)
You can make your own crust if you want. But I chose a refrigerate crust - knowing I'd spend a little more time pitting and slicing.
You have probably noticed I don't skin my peaches. You can if you want. I just like the color of the skin. And I had white peaches - which when skinned look very pale. I wasn't sure it would look to appetizing if I skinned them. But it's your choice.
This is pretty much straight forward - there are a couple of
substitutions and ideas listed below
.
Lisa

And "like" my Facebook page too!
Peach Tart Recipe
YIELD: 1 Tart

Ingredients:

* 5 ripe but firm peaches

* 1/4 cup sugar

* zest of 1/2 lemon (don't skip this!)

* 2 Tablespoons flour

*4 Tablespoons - cold UNsalted butter

* 1/4 finely chopped walnuts (other ideas see below)

* 1 refrigerated pie crust

* 1 egg (for wash)

Procedure:

Slice the peaches thin and set in a bowl. (I don't skin - you can if you want)

Toss the peaches with 1 tablespoon of sugar.

Let them stand for 20 minutes.

Pre heat the oven to 450 degrees. Put the rack on the lower-middle position

Make the topping while the oven heats and peaches are setting.

In a small bowl add lemon zest and sugar.

Stir in the flour and salt.

cut in the butter so that it gets "crumbly"

Toss in the walnuts.

Strain the peaches. Get rid of the juice. (I even blot the peaches)

Roll out the pie crust on a stone or silpat.

Leave a 2 inch border and ladle in the drained peaches.

Fold over the edge of the crust.

Mix the egg with 1 teaspoon of water. Brush the egg wash on the pie crust.

This peach tart recipe needs to rest - so stick it in the 'fridge for 20 minutes.



After the tart has rested - bake for 20 minutes.

Lower the heat to 400 degrees and bake until the crust is deep golden brown. (It's about another 20 minutes)

Cover with foil if it's browning too quickly

Let the tart rest on a baking sheet for 10 minutes - and then it's usually best to slide it onto the baking rack itself - otherwise it sweats and gets soggy.

(So from baking to serving plan on )


HUGE COOKING TIP
For any of my tart recipes that don't call for small tartlet pans - I use either of these:


Silpat Mat
Pizza Stone
Why? With a Silpat you get even cooking AND with all the butter, some will run off with the sugar and carmelize. A Silpat is so easy to clean. And it keeps the tart cooking evenly.

I've never made my peach tart recipe on my stoneware, because I lean towards the Silpat. But I wouldn't hesitate to IF something happened to my Silpat. Just put cornmeal down on the stone first so your tart won't stick.

(I just don't know how I lived before my Silpat!)


Can I use pecans?
Yes. There's no reason you can't. We just don't use pecans much in
Italian dessert recipes
- we use walnuts and almonds. But they would make a great swap.
Why so little sugar?
You actually get enough sweet from the 20 minutes the peaches rest with the sugar on them. Once you drain the excess liquid - the peaches still retain some of the sugar.

Unless your peaches are rock hard and green - there shouldn't be a problem.
Can I use puff pastry or phyllo?
I've never used either. But I would hesitate to use phyllo. I think there is too much juice leakage potential to have a soggy bottom. Puff pastry should be ok.
Peach Recipes
Peach Sangria
Peach Cake Recipe
Peach Tart Recipe
Bellini Recipe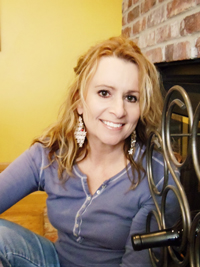 Labor Day Is Coming Up!
It's still so hot, it's hard to get excited about cranking up the over. So - there are a couple of NO BAKE stand-by's I use:
Strawberry and Marsala
Amaretto Mouse Cheesecake
The big word is NO BAKE.
And then, there's always my
Italian Drinks
collection to make a party unique and festive.
Whatever you choose for Labor Day, keep it cool. Keep it simple. And keep it safe!
Lisa
Would you like to share this page? You know how to do it! Thanks for sharing the sugar love!