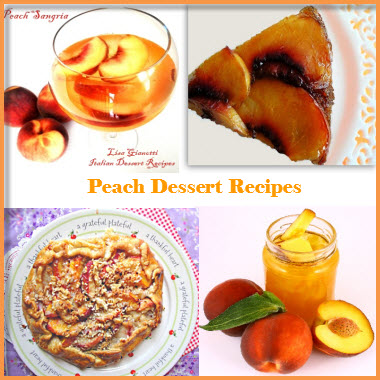 These peach dessert recipes are part of my
fruit dessert recipes
and they center around FRESH peaches. So none of these recipes will will call for canned or frozen.
In the midwest we have so many varieties grown by the local farmers who bring them to market on Saturdays. And in some of the recipes I give a suggestion for a certain peach type - like a white peach. But really, don't worry about that - you can use any peach you can find. It's just a a very big deal around here when the white peaches are harvested. We have people in our family that drive an hour and a half to go buy them when they are ripe. Because of the abundance here we can be picky.
Two of these recipes are part of my
Italian Drinks
collection. (The
bellini recipe
and the
peach sangria
). The
peach sangria
is usually in my top 10 most viewed pages. And if you want that recipe emailed to you, there's a place to do that at the bottom of that page.
None of the
peach dessert recipes
are fancy pants celebrity-type recipes. They are really simple. The drinks take about 10 minutes to make. And plan on the desserts about , some of them a tad longer. These use real basic ingredients to keep the dessert focused around fresh peaches! (And to help you get something cooking before the bag of fresh peaches you bought rots on your counter!)
Thanks for stopping by. And if you were looking for certain something - check out my
recipe search by ingredient page
. Thanks for clicking by -
Lisa
Website Owner and Developer of
Italian Dessert Recipes